The end of the year can be such a hard month for authors, with end-of-the-year lists coming out all over the place and all that jazz. But one of those most frustrating things is seeing those lists coming out before all the year's books have even been released. To that end, I wanted to give shoutouts three great December YAs I was lucky enough to read in advance, and highly recommend you pick up ASAP!


FOR REAL by Alison Cherry (Dec. 9)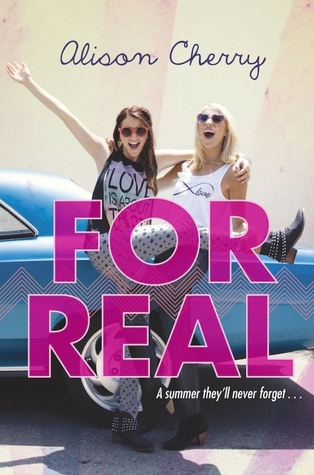 No parents. No limits. No clue what they're in for.

Shy, cautious Claire has always been in her confident older sister's shadow. While Miranda's life is jam-packed with exciting people and whirlwind adventures, Claire gets her thrills vicariously by watching people live large on reality TV.

When Miranda discovers her boyfriend, Samir, cheating on her just before her college graduation, it's Claire who comes up with the perfect plan. They'll outshine Miranda's fame-obsessed ex while having an amazing summer by competing on Around the World, a race around the globe for a million bucks. Revenge + sisterly bonding = awesome.

But the show has a twist, and Claire is stunned to find herself in the middle of a reality-show romance that may or may not be just for the cameras. This summer could end up being the highlight of her life... or an epic fail forever captured on film. In a world where drama is currency and manipulation is standard, how can you tell what's for real?
My mini-review:
That was the first time I've stayed up way too late to finish a book in a whiiiile. But it was really fun, with a great, well-executed premise; entertaining, layered characters; solid character development; and a great sisterly relationship that made me wish mine were there to hug. Really well paced, though to be honest I would've happily read another hundred pages.
TOP TEN CLUES YOU'RE CLUELESS by Liz Czukas (Dec. 9)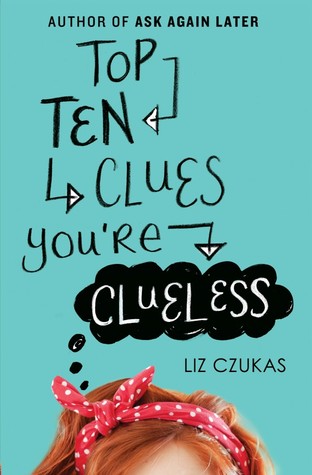 Top Five Things That Are Ruining Chloe's Day
5) Working the 6:30 a.m. shift at GoodFoods Market
4) Crashing a cart into a customer's car right in front of her snarky coworker Sammi
3) Trying to rock the "drowned rat" look after being caught in a snowstorm
2) Making zero progress with her crush, Tyson (see #3)
1) Being accused—along with her fellow teenage employees—of stealing upwards of $10,000
Chloe would rather be anywhere than locked in work jail (aka the break room) with five of her coworkers . . . even if one of them is Tyson. But if they can band together to clear their names, what looks like a total disaster might just make Chloe's list of Top Ten Best Moments.
My Mini-review: Such a cute book. I'm a big fan of Liz Czukas' writing for when I wanna read something fun with humor, heart, and personality. (Which is pretty much always.) It was also a cool surprise to me to see a diabetic main character, which I haven't since the days of Stacey McGill. And there's a nice diverse cast, which brings me to something I feel like might be a Liz Czukas signature I love - letting characters say ignorant things in a way that feels realistic and inspires a conversation... like the way a lot of learning about other races and cultures actually does happen in real life. The comp "Empire Records meets Breakfast Club" kept coming back to me as I was reading, and it does indeed totally have that vibe.
LOVE AND OTHER THEORIES by Alexis Bass (Dec. 31)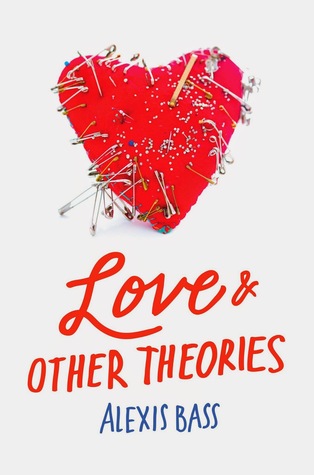 If you want more, you have to give less.

That's the secret to dating in high school. By giving as little as they expect to get in return, seventeen-year-old Aubrey Housing and her three best friends have made it to the second semester of their senior year heartbreak-free. And it's all thanks to a few simple rules: don't commit, don't be needy, and don't give away your heart.

So when smoking-hot Nathan Diggs transfers to Lincoln High, it shouldn't be a big deal. At least that's what Aubrey tells herself. But Nathan's new-boy charm, his kindness, and his disarming honesty throw Aubrey off her game and put her in danger of breaking the most important rule of all: Don't fall in love.
My Mini-review: This was actually a surprisingly brutal read for me, super uncomfortable-making in the way only Corey Ann Haydu's books have really gotten to me until now. Bass just so well nails the feeling of watching yourself lose someone you really care about and being powerless to stop it, and my heart hurt for so much of this spot-on accurate book. It makes matters so much worse that as the reader (especially as an adult) you know Aubrey isn't powerless, but...teenagers gonna teen, and in context, it totally works, and totally hurts.