Band Geek Thursday is back this week! Our special guest today is Suzanne van Rooyen, whose new LGBT Contemp YA, THE OTHER ME, releases today from Harmony Ink Press! So, without further ado, here's Suzanne to talk about her playlist:


*****
The Other Me
is a story about two troubled teens who find each other through music. Music is at the core of this story and is critical to the way in which the relationship between my main characters, Treasa and Gabriel, develops.
The Other Me was inspired by some of my own high school experiences and I was a total music nerd. I played piano and flute, sang in the choir like Treasa does in the book, and participated in various ensembles. Thus, the soundtrack for this novel was incredibly important.
Treasa sings in the choir. Both Adiemus and In Paradisum are songs she sings in choir. In Paradisum is a haunting piece of music, beautifully sad and yet uplifting – a dichotomy made flesh and blood in Treasa, who – despite her problems – remains hopeful and upbeat. Treasa is also a fan of rock music. Creed is one of her favourite bands and the song What If is particularly significant given that Treasa experiences 'forked tongues in bitter mouths' on a daily basis at school. Of course the main question in this song is what if? Treasa and Gabriel both have a lot of 'what ifs' to contend with in this book.
The piano works by Beethoven, Rachmaninoff and Chopin in this playlist relate directly to Gabriel and were often on repeat while I was writing his scenes. Gabriel is a gifted pianist and dreams of being a professional performer. Treasa is as enthralled by his playing as she his by his smile. Beethoven's Sonata Pathetique is of particular importance as the second movement of this sonata is the first piano piece Treasa hears Gabriel playing. It's an exquisite piece of music that moves through a variety of emotion, from the melancholy opening to the anxious second theme culminating in the chords Gabriel would no doubt be slamming out in an attempt to deal with his pent up anger and frustration.
Of course Gabriel isn't just a fan of classical music. He's a metalhead too and when Beethoven isn't angry enough, he likes to headbang in his bedroom to the thrashing guitars of Emperor and Immortal – prepare your ears for the onslaught. Gabriel is also a fan of Marilyn Manson – an artist Treasa doesn't know very well. Manson becomes particularly significant in the novel and Mechanical Animals became the soundtrack to many writing days. Without giving too much away, suffice it to say that Manson's lyrics were extremely apt for many of the situations my characters found themselves in. While I know Manson's lyrics can be quite harsh (and contain some language, so listening discretion advised) he certainly knows about the human condition, which is what resonated with me as a teen and definitely with my characters.
But the song which perhaps best sums up The Other Me and what my characters are going through is The Story by Thirty Seconds to Mars. I'll leave you with some lyrics from that song, lyrics which succinctly capture the essence of The Other Me:
This is the story of my life
These are the lies I have created
And I swear to God
I'll find myself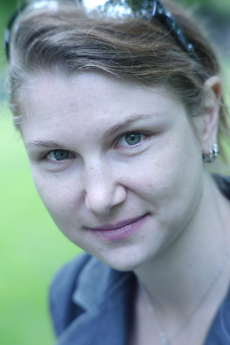 Suzanne is a tattooed storyteller from South Africa. She currently lives in Finland and finds the cold, dark forests nothing if not inspiring. Although she has a Master's degree in music, Suzanne prefers conjuring strange worlds and creating quirky characters. When not writing, she teaches dance and music to middle schoolers and entertains her shiba inu, Lego. She is represented by Jordy Albert of the Booker Albert Agency. You can find her on Twitter as
@Suzanne_Writer
.