Happy Friday, Misfiteers! You know what Friday means, don't you? The weekend is here, and you get to do SO MUCH READING!!!! Yaaaaaaay!!!

But what to read? Well, don't worry - I've done a whole lot of reading lately, so here are a few books I've read and loved lately, to help you decide what's worth turning into your FridayReads.


* * *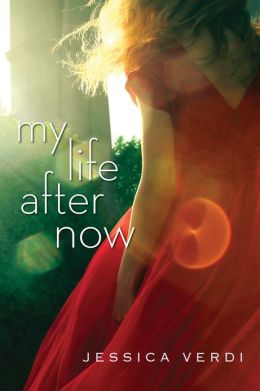 MY LIFE AFTER NOW by Jessica Verdi (Sourcebooks Fire, April 2, 2013)
I actually learned about this book at a Teen Author Night reading at the New York Public Library, a monthly series run by David Levithan, at which Jessica Verdi was present. I hadn't known it existed, but the second I heard "This book is about a girl with HIV" I
knew
I had to have it. It was cemented for me when she read from it, and I knew the writing would be solid and entertaining as well.
MY LIFE AFTER NOW is about a 16-year-old named Lucy who contracts HIV after a series of events in her life causes her to act out by having a one-night stand. HIV is one of those topics that's swathed in misinformation, and Verdi does an excellent job using Lucy's story as a foil for both getting accurate info out there and correcting a lot of false but popular assumptions. In fact, where I think Verdi succeeds the most strongly is in the way she meticulously balances getting both the seriousness of the disease across (
try
not feel your heart drop into your toes when Lucy's doing internet research) and how manageable it can be. That such a dramatic subject never felt like it was veering into melodrama for me was nothing short of amazing.
My one real criticism of the book was that I wanted
more
- more development of the subplots, more real development of the central relationship (which is admittedly adorable), a less rushed ending (again, see that relationship!)... Verdi's writing is
good
and the story's a really interesting one, but every time I realized how quickly I was plowing through it, I was both surprised and disappointed; would've certainly had no complaints if fleshing out those things bulked up the page count!
Highly recommend to anyone who loves contemp YA and feels like they've seen every issue covered!
Bonus: At the NYPL reading, Verdi described her next book as a YA "When Harry Met Sally," so, you're probably gonna wanna
add that to your TBR
ASAP.
*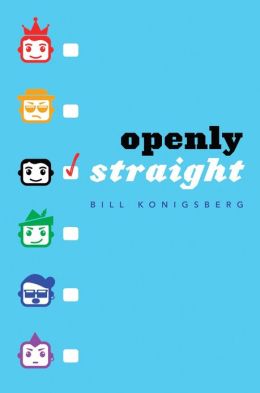 OPENLY STRAIGHT
by Bill Konigsberg (Arthur A. Levine Books, May 28, 2013)
I thought it was a pretty safe bet I was gonna enjoy this one when I read the ebook equivalent of maybe two pages before bed and laughed out loud multiple times. What followed continued to make me laugh at times, but it went far beyond that and into making me think about things YA has definitely never made me think about before.
OPENLY STRAIGHT features a main character named Rafe Goldberg, and this isn't his coming-out story as so much LGBT YA seems to be. Rafe's already out, and in fact, his coming out went relatively smoothly. He's got a funny and supportive best friend; warm, nutty, loving parents, including a mom who's president of PFLAG; and he's no bullying target. He's tolerated perfectly well as the openly gay kid in school. And he's tired of it.
This is the story of Rafe's self-reinvention at a boarding school, not as a straight kid but as a kid who's not defined by his sexuality, period, a distinction whose fine point is honed beautifully throughout the book. It's not that Rafe is ashamed of being gay, he just wants to be something beyond it. He doesn't want to be someone to be "tolerated," he wants to be someone who just
is.
Reading this book finally got my brain to the place of fully understanding the idea it's still a world where one "comes out" as gay but not as straight. It's still an "other." To be "okay" with the other is the bare-minimum-of-decency starting point, not a state to aspire to. And to be tolerated rather than blended seamlessly into the fold isn't enough, not for Rafe, not for anyone.
Of course Rafe's strategy isn't perfect either; it's not really achieving freedom from judgment or classification if you have to do it by hiding who you are and what you want. Fortunately, that's the beauty of YA - there's still plenty of time to learn, grow, fix your mistakes, and ultimately learn who you are. I will say that the ending of the book definitely left me wanting more, and to an extent, actually somewhat undid a lot of what was really successful in the the first half, but for so many reasons, it's still one of my highest recommendations for this summer.
(eARC was provided by NetGalley for review. No cookies or anything though, so I was totally impartial.)
*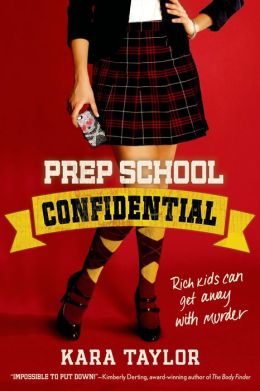 PREP SCHOOL CONFIDENTIAL
by Kara Taylor (St. Martin's Press, July 30, 2013)
I'm just going to make this admission right now - Kate Brian's Private series was my crack for
years
. (And Privileged was even better. Seriously.) So when I saw another prep school murder mystery book, desperately coveting it was a no-brainer. (Plus, argyle!)
PREP SCHOOL CONFIDENTIAL did not disappoint, and in fact has the one thing I found lacking in the Private books - a fun, funny, not-remotely-Mary-Sue-ish heroine in the form of Anne Dowling. Anne's charming, charismatic, and definitely kind of a badass.
Every murder mystery needs a victim, and in this case, it's Isabella, Anne's roommate, with whom she's actually connected as friends, despite their vast differences. (I'm not gonna lie, I liked Isabella too, and kinda hoped I had the plot wrong and she'd be sticking around!) What follows is a twisty tale of secrets, lies, multiple romantic options, and a host of believable suspects. Obviously there's only so much that can be said without giving anything away, so I'll just reveal this: save this book for a night you've got a whole lot of time, because a certain blogger
might've
stayed up until 4:00 a.m. to finish reading!
Bonus: The second one,
WICKED LITTLE SECRETS
, comes out in March 2014, so less than a year until you can get your hands on the follow-up you'll be dying (pun!) for by the end of PSC!
***
So, those are a couple of my favorite reads so far this summer - share yours in the comments!